Here is Richard Burnett's 26th annual column of the past year's heroes and zeros.

HEROES The Reclaim Pride movement which revolutionized the Pride circuit in 2021, as retro Pride marches came back into vogue, compounded by the politics of inclusion and representation in the wake of Black Lives Matter and the May 2020 murder of George Floyd. New York City's Queer Liberation March and London's Reclaim Pride gained momentum as legacy organizations such as Philly Pride Presents and Boston Pride dissolved. On August 15, Fierté Montréal harnessed the new queer zeitgeist with a retro in-person Pride March.

ZERO Hungary whose new law banning schools from using materials deemed to promote homosexuality or gender change went into effect on July 8.
HEROES The thousands of marchers who defied Hungary's Prime Minister Viktor Orban's right-wing government and filled the streets of the country's capital on July 24 in the annual Budapest Pride parade.

HERO Alan Turing, the British mathematician who enabled Britain and the Allies to win World War II with his code-breaking skills. Turing killed himself in 1954 after being convicted for gay sex. On March 25, Britain unveiled their new 50-pound note which features Turing, and on June 23, Britain's GCHQ spy agency unveiled a spectacular 10-metre by 10-metre artwork in its headquarters depicting Turing inside the wheels of the codebreaker machine that he designed

HERO The US Navy which on November 6 launched a new ship named for the LGBTQ rights leader and politician Harvey Milk, the USNS Harvey Milk, a navy replenishment oiler. Milk served four years in the Navy before he was forced out due to his sexuality.

HERO Germany which on September 13 announced it has compensated 249 people prosecuted or investigated under Paragraph 175, a Nazi-era law criminalizing homosexuality. The law was also enforced after World War II. So far, Germany has paid out nearly 860,000 euros (just over $1 million). The deadline for applications is July 21, 2022.

HERO France whose parliament on June 29 adopted legislation (326 votes to 115) allowing single women and lesbians access to in-vitro fertilization.

HERO The UK's National Health Service which beginning on June 21 changed eligibility criteria so that sexually active queer men can now donate blood, platelets, and plasma in the UK. Every donor who has had the same sexual partner for the previous three months is now eligible to donate.

HERO The University of Oxford which on July 5 began vaccinations of a novel HIV vaccine candidate as part of a Phase I clinical trial in the UK.

HERO Dr. Nitika Pant Pai of the Research Institute of the McGill University Health Centre which announced the creation of an HIV self-test (HIVST) app by Pai in a study published September 1 in BMJ Global Health.

ZERO Elections Canada which deadnamed trans and non-binary Canadians on voter information cards for the 2021 federal election.

HEROES The record eight out LGBTQ politicians elected to Parliament on September 20, four more than were elected in 2019: Randall Garrison (NDP, Esquimalt–Saanich–Sooke), Randy Boissonnault (Liberal in Edmonton Centre), Rob Oliphant (Libéral — Don Valley West), Seamus O'Regan (Libéral — St. John's South–Mount Pearl), Melissa Lantsman (Conservative — Thornhill), Blake Desjarlais (NDP — Edmonton Griesbach) and Eric Duncan (Conservative — Stormont–Dundas–South Glengarry, and Pascale St-Onge (Liberal — Brome–Missisquoi).

HEROES When Parliament reconvened on November 22, Canada also officially had its queerest Cabinet in history: Seamus O'Regan was labour minister, Randy Boissonnault was associate finance minister, and Canada's first out lesbian minister, Pascale St-Onge, was Minister of Sport and Minister responsible for the Economic Development Agency of Canada for the Regions of Quebec.

HERO The Centre for Gender Advocacy at Concordia University which on January 28 won a landmark constitutional challenge for the civil rights of trans, non-binary and intersex people when Quebec Superior Court Justice Gregory Moore ruled several pieces of the Civil Code were unconstitutional, such as not allowing non-binary people to change their sex on their Act of Birth record to correspond to their gender identity. The ruling also asserted the right of trans parents to change their designation on their children's birth certificate and be recognized as "parent" rather than just "mother" or "father." The court also struck down the requirement for trans youth to be evaluated by a health professional in order to change their gender assignment. The ruling also did away with the requirement that only Canadian citizens can change the gender designation on their identification and official records, allowing refugees, permanent residents and immigrants seeking status to do so as well. Quebec had until the end of 2021 to amend the Quebec Civil Code to comply with the ruling.

(What could have been) ZEROS Quebec's ruling Coalition Avenir Québec government and Quebec Justice Minister Simon Jolin-Barrette who on October 21 proposed Bill 2 which stipulates people can only request a change of sex on their birth certificate after undergoing gender-affirming surgery. The person's gender would then have to be re-confirmed by a doctor who did not perform the surgery. For people who don't meet the surgical requirement to have their designated sex changed on their ID, Bill 2 adds a separate "gender" category on documentation that would out trans people. Said Celeste Trianon, trans rights spokesperson at Concordia's Centre for Gender Advocacy, "This is truly the most directly transphobic bill ever proposed in Quebec, and also in Canada." Then on November 9, following a public backlash, Jolin-Barrette's office announced the surgery requirement will be dropped from Bill 2.

HERO The US which on October 27 issued its first passport with an "X" gender designation, to Colorado intersex activist Dana Zzyym.

HERO Quebec which began providing free in-vitro fertilization (IVF) treatment as of November 15. The funding for IVF treatment is now also available for women in same-sex couples. Quebec Junior Health Minister Lionel Carmant also announced plans to expand the program to gay male couples and single men who are currently not eligible due to legal uncertainty surrounding surrogate mothers.

ZERO The Log Cabin Republicans who "honoured" former First Lady Melania Trump at their "Spirit of Lincoln Gala" at Mar-a-Lago in Palm Beach, Florida, on November 6. Guests included former US President Trump..

HEROES The US House of Representatives which on January 4 approved gender-neutral terms in its official language. No more 'he' or 'she' and the words himself and herself will be replaced with themself.

HEROES US President Joe Biden who on January 25 announced the end of the ban on transgender military service. Then on October 19, Dr. Rachel Levine was sworn in as the first trans four-star admiral in any of the eight uniformed services of the United States.

HERO The US Senate which on November 1 voted to confirm Beth Robinson to the 2nd US Circuit Court of Appeals, making her the first out LGBTQ woman to serve on any US federal circuit court.

ZERO Australia, for awarding virulently anti-LGBTQ tennis icon Margaret Court the country's highest honour, a Companion in the General Division of the Order of Australia, on January 26.

ZERO The Vatican which, Italian newspaper Corriere Della Sera reported on June 22, interfered in secular politics when it opposed pending legislation in Italy that would address discrimination and hate crimes against LGBTQ people, in a letter that the Vatican's foreign minister, Archbishop Paul Richard Gallagher, delivered to Italy's ambassador to the Pope.

ZEROS The three thugs in Montego Bay, Jamaica, who on October 11 kidnapped, disfigured, then set fire to an 18-year-old male who believed he was meeting a man from a gay dating site.

ZEROS The family members of Alireza Fazeli-Monfared who murdered the 20-year-old gay male in a so-called "honour killing" in Iran on May 4 after he was exempted from serving in the military because of "sexual depravities." When Fazeli-Monfared's family discovered the exemption papers, he was beheaded by his own half-brother and cousins before he could flee the country to Turkey to meet his refugee boyfriend. Same-sex sexual conduct is illegal in Iran and can be punishable by death or life imprisonment.

ZEROS The Taliban who, after seizing power in Afghanistan in August, reinstated the death penalty for same-sex conduct. On October 29, a Taliban spokesperson said the organization will not reconsider LGBTQ rights while Rainbow Road Executive Director Kimahli Powell told France 24 that the Taliban "has a 'kill list' circulating, identifying LGBTQ persons."

HERO Pakistan which on July 8 opened its first government-run school for transgender students in the central city of Multan.

ZERO Turkish authorities for arresting four Bogazici University students in Istanbul on January 30 for displaying artwork depicting LGBTQ rainbow symbols. The Istanbul Governor's Office said the artwork was an "ugly attack" that "mocked religious beliefs." Then on June 26 the Istanbul Governor's Office banned the Istanbul Pride parade, and police teargassed marchers and detained some 20 participants. A Turkish court order then forced Apple to remove gay dating application Hornet from its App Store in Turkey on August 6. Hornet had more than three million users in Turkey.

ZERO Utah which on March 25 passed legislation requiring all cellphones and tablets sold in-state to automatically block pornography.

ZERO China's Tencent WeChat social media platform which on July 6 blocked accounts for campus LGBTQ groups at China's top universities.

ZEROS Facebook, Instagram, TikTok, Twitter and YouTube who each got a failing grade in GLAAD's inaugural Social Media Safety Index released on May 10. GLAAD reported the five social media platforms are "effectively unsafe for LGBTQ users", citing the "prevalence and intensity of hate speech and harassment" across social media platforms as a "public health and safety issue."

ZERO Grindr which on January 26 was fined 100 million Norwegian kroner ($11.7 million) – equal to 10% of the US company's global revenue – by Norwegian regulators for failing to get consent from users before sharing their personal information with advertising companies, in breach of European Union privacy rules.

ZERO Black Shadow, the hacking group that on November 3 leaked user details of a million users of Atraf, an Israeli LGBTQ dating site. Black Shadow had already released 1,000 Atraf user profiles and demanded $1 million within 48 hours to prevent the wider leak. The leaked records included users' HIV status, sexual orientation and unencrypted passwords. Atraf is owned by CyberServe, an Israeli web development company.

ZEROS TikTok creators who exposed LGBTQ athletes using Grindr in Tokyo's Olympic Village, endangering them around the world. TikTok and Twitter creators used Grindr's "Explore" feature to find LGBTQ Olympic dating profiles. Several videos posted on the apps revealed faces and identifying details of Olympians. On July 28, TikTok and Twitter removed videos that exposed gay Olympians on Grindr.

HEROES Montreal writer Gabriel Cholette and illustrator Jacob Pyne who met via Grindr, then combined their talents to create their critically-acclaimed queer debut Les carnets de l'underground (Éditions Triptyque / Collection Queer) which is about "Instagram generation" club kid culture.

HEROES The more than 40 British theatres and production companies – including London's prestigious Royal Court and the Oxford Playhouse – who signed the "Trans Casting Statement" released on May 26, pledging to "never cast, or endorse a production that casts, a cisgender person in a trans, non-binary or gender non-conforming role."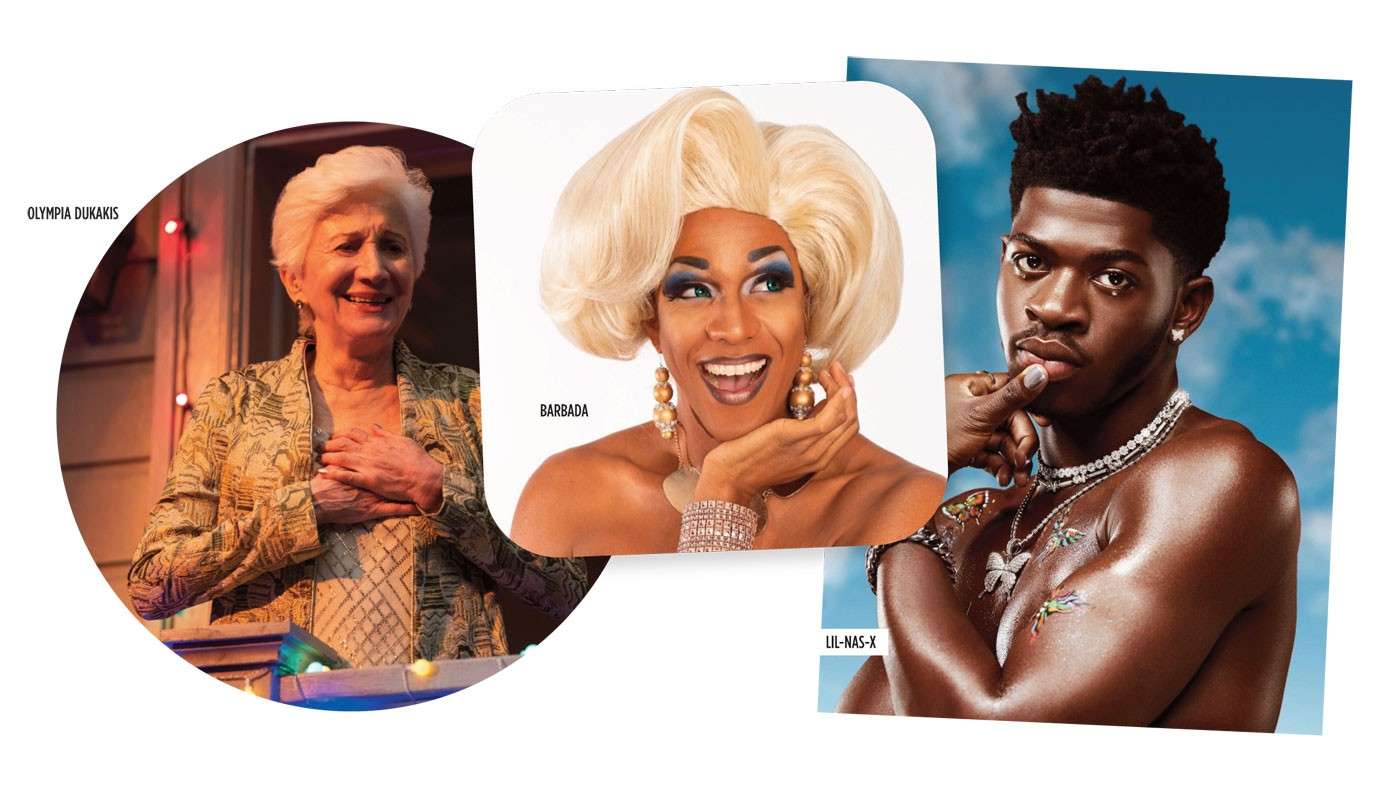 HERO Drag superstar Trixie Mattel who on February 2 became co-owner of the longest-running LGBTQ bar in Wisconsin – Milwaukee's This Is It, open since 1968 – to prevent it from going out of business.

HERO Montreal drag star Barbada who capped a spectacular year by co-starring in the OutTV drag competition Call Me Mother co-starring RuPaul's Drag Race alum Peppermint and RuPaul's Drag Race UK star Crystal.

HERO Montreal drag star Rita Baga who also had a spectacular year, hosting a Juste pour rire gala, touring Quebec and appearing on the television shows En direct de l'univers, Tout le monde en parle, Bonsoir Bonsoir and La semaine des 4 Julie, in addition to co-starring on Big Brother Célébrités.
ZERO Right-wing gay pundit Milo Yiannopoulos who on March 9 told far-right anti-LGBTQ LifeSite News that he is now an "ex-gay" who wants to rehabilitate conversion therapy.

ZERO Stand-up comic Dave Chappelle for his multiple anti-trans diatribes, notably in his new comedy special The Closer which debuted on Netflix on October 5. Netflix stands by Chappelle's special.
HERO Joshua Whitehead whose novel Jonny Appleseed – about a two-spirit Indigiqueer man who faces his past after returning home to his reserve for his stepfather's funeral – won the CBC's 2021 Canada Reads competition.

HERO Positive Space Nunavut, a new LGBTQ society launched in Iqaluit by Positive Space president Bibi Bilodeau after it was awarded $100,000 from the LGBTQ Community Capacity Fund which on February 11 announced $15 million in funding for 76 LGBTQ community-led projects across Canada.

HERO Kahsennenhawe Sky-Deer, 41, who on July 3 became the first woman and first person who identifies as LGBTQ to be elected grand chief of the Kahnawake Mohawk community south of Montreal. Sky-Deer told the Montreal Gazette she hopes to blaze a trail for other LGBTQ people in First Nations communities.

(Half a) ZERO CN Rail, for denying Ken Haire his late husband Gerry Schwarz's pension benefits because CN Rail's plan did not recognize same-sex relationships at the time of Schwarz's retirement. The couple had been together 33 years when Schwarz died in 2012. On May 4, CN Rail finally offered Haire a lump sum plus interest for retroactive payments. On May 5, CN updated pension policies to include all widowed same-sex partners and stated, "We sincerely apologize to those impacted."

HEROES The seniors at the Rosewood Retirement Residence in Kingston, Ontario, who took part in the home's first-ever Pride celebration on June 30, wearing tie-dyed shirts and walking the catwalk on a make-shift runway.

HERO The City of Vancouver for opening its new 24-room civic housing project on February 18, prioritizing the needs of trans and gender diverse tenants in the former Ross-Aoki House.

HERO Saskatoon city council which voted 9-1 on February 23 to officially ban conversion therapy in Saskatoon.

HERO Chris Pappas who on November 5 became the first out gay mayor in South Africa, of the uMngeni Local Municipality in KwaZulu-Natal.

ZEROS The thugs attacking LGBTQ people living in the "Block 13" area in the Kakuma refugee camp in northwestern Kenya. Between January 1 and March 1, some 130 LGBTQ refugees from countries including Uganda, Burundi and the Democratic Republic of Congo, were attacked at least five times, pelted with rocks and stabbed. In one incident, three gay men were hospitalized for burns after attackers set their beds on fire as they slept.

HERO Angola whose law decriminalizing same-sex sexual relations went into effect on February 24. The new law also prohibits discrimination based on sexual orientation.

HEROES The LGBTQ activists and their allies who participated in the first-ever Pride marches held in Réunion Island on May 16; in Malawi's capital city Lilongwe on June 26; and in the Cayman Islands on July 31.
ZEROS The thugs who burned the Rainbow flag and assaulted marchers at the 20th annual Pride march in Zagreb, Croatia, on July 4.

HERO The tiny Himalayan nation of Bhutan which decriminalized gay sex in its Penal Code Amendment Act, effective February 17.

HERO Yucatán's legislature which on August 25 voted 20 – 5 to legalize same-sex marriage.

HERO Argentina whose Congress on June 24 overwhelmingly passed a law reserving one percent of Argentina's public sector jobs for transgender people.

HERO Montrealer Lucas LaRochelle who was awarded the Conseil québécois des arts médiatiques / CQAM-Turbulent 2021 residency for LaRochelle's Queering The Map, a community-generated counter-mapping project that digitally archives queer experience in relation to physical space.

HERO Elliot Page, the first trans man to appear on the cover of Time magazine (March 29 – April 5 double issue).

HERO San Francisco's LGBTQ Bay Area Reporter newspaper which published its 64-page 50th anniversary edition on April 1.

HERO London UK-based Gay Times which in September ended its print magazine after nearly 50 years. The publication continues online.

HERO DC Comics for publishing its "DC Pride" anthology on June 8; for publishing Batman: Urban Legends #6 in August, in which Boy Wonder Tim Drake, aka Robin, comes out as bisexual, accepting a romantic date from another boy; for publishing Superman: Son of Kal-El #5 in November, in which Superman's son, Jon Kent, comes out as bisexual, sharing a kiss with his male friend Jay; and for introducing Bia – a Black trans woman and the first trans Amazon in the Wonder Woman series – in the first issue of the Nubia & The Amazons series, published on October 19. 

HERO Lil Nas X who had a monumental year, expressing his queer sexuality on exactly the same terms — and at the same level of fame, success and media attention — as his straight counterparts have done for decades.

HEROES The iconic children's show Sesame Street which on June 17 introduced three new characters – a married gay male couple and their daughter – on its "Family Day" episode; the Power Rangers Dino Fury TV show which introduced its first LGBTQ ranger, Izzy, the Green Ranger, seen walking hand-in-hand with the character Fern in the final moments of episode 13; and the Q-Force cartoon series on Netflix which follows the adventures of a misfit group of LGBTQ superspies, whose voice cast includes Sean Hayes and Wanda Sykes.

ZERO China's government which on September 2 banned effeminate men from television, telling broadcasters to promote "revolutionary culture." According to a leaked memo published on October 2 by the South China Morning Post, China has also banned ban video games that promote "effeminate males" and "gay love."

HEROES The three lawyers and a law professor from the East China University of Political Science and Law in Shanghai who on March 16 launched The DF Fund, China's first non-profit foundation to offer legal aid to the LGBTQ community.

HERO Japan's Sapporo district court which on March 17 ruled that Japan's failure to recognize same-sex marriage is unconstitutional. Japan is the only G7 nation that does not allow same-sex marriage.

HEROES Generation Z. According to a Gallup Poll released on February 24, one in six Generation Z adults identify as LGBTQ: The vast majority who identify as LGBTQ – 72% – say they are bisexual. Thus, 11.5% of all Gen Z adults in the US say they are bisexual, with about 2% each identifying as gay, lesbian or transgender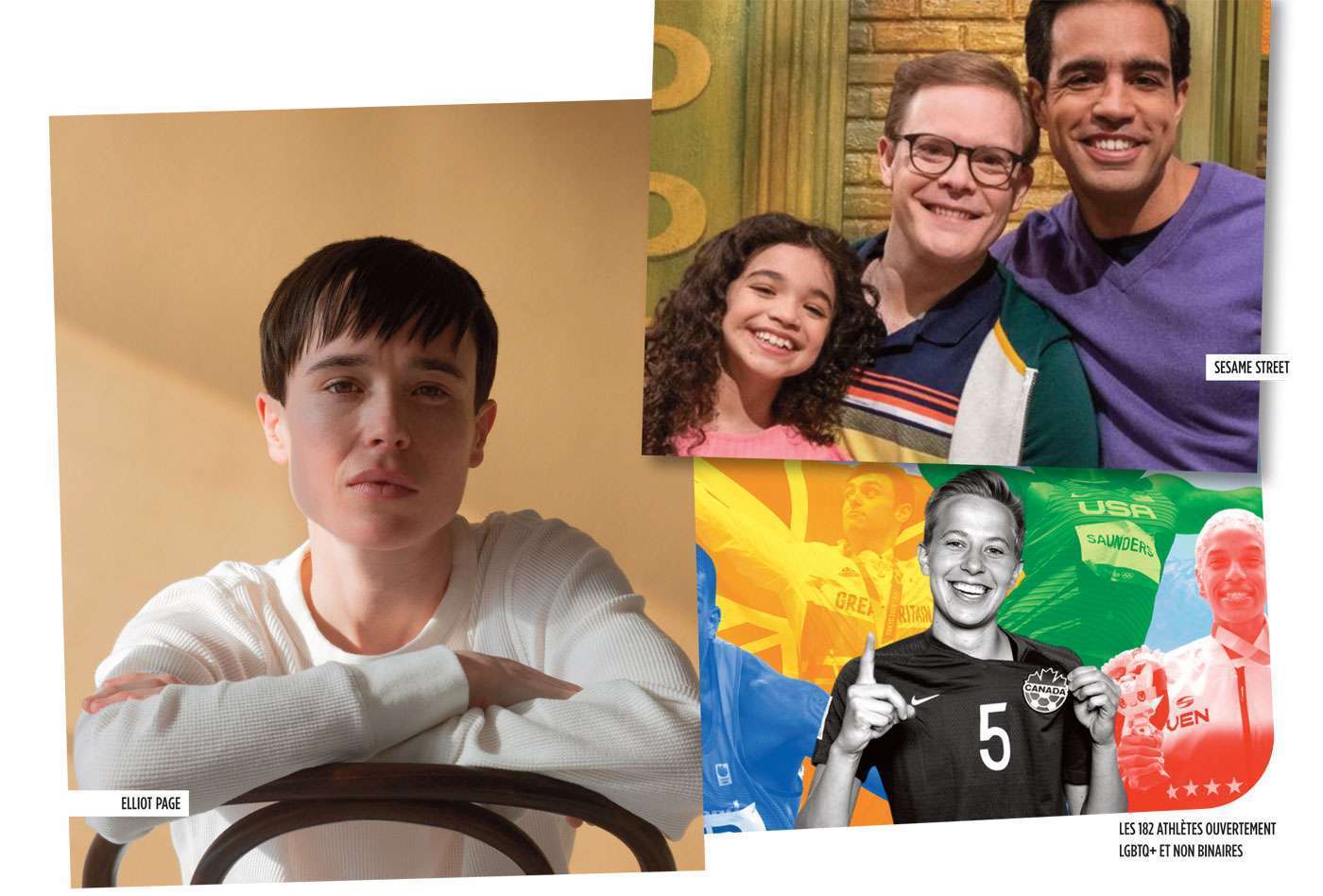 ZERO The Chicago Blackhawks who during the 2010 NHL playoffs ignored complaints from Kyle Beach, their 20-year-old prospect who played for the Blackhawks' minor league affiliate team. Beach charged he was sexually assaulted by then-Blackhawks video coach Brad Aldrich in May 2010. An independent investigation released by the team on October 26 revealed that team executives failed to act because they were more concerned about winning the Stanley Cup.

ZERO "Gay icon" David Beckham who in February signed a deal – estimated to be worth anywhere between £10m and £150m – to become the face of the 2022 World Cup in Qatar, one of the most dangerous places in the world to be LGBTQ.

ZERO Republican Caitlyn Jenner who told TMZ on May 1, "I oppose biological boys who are trans competing in girls' sports in school. It just isn't fair and we have to protect girls' sports."

HEROES Those regular everyday Americans who are ahead of the curve as state legislatures across their country pass anti-trans laws. The Human Rights Campaign says more than 30 state legislatures have proposed more than 115 bills that would limit transgender rights, from participation on sports teams to access to medical care. A PBS NewsHour/NPR/Marist poll published April 16 shows Americans overwhelmingly oppose anti-transgender laws: Two-thirds of Americans are against laws that would limit transgender rights, and that opposition includes majorities of every political ideology from liberal to conservative and every age group. 

HEROES The 182 LGBTQ and non-binary athletes who were out at the Tokyo Summer Olympic Games, up from the 56 who participated at the 2016 Rio Games, and 23 publicly out Olympians in 2012. At least 55 of those athletes won medals including non-binary Canadian soccer star Quinn who became the first trans athlete to win an Olympic medal following Canada's 3-2 win over Sweden, winning gold in the women's Olympic soccer final.

ZERO The Federation of Gay games, for insisting on hosting the 2022 Gay Games in Hong Kong, and which have been postponed until November 2023 because of the coronavirus pandemic. On August 6, Taiwan told AFP it will not send a team to the Hong Kong Gay Games, fearing their athletes and staff could be arrested if they wave Taiwan's flag or use its name. That means that the only nation in Asia to have legalized same-sex marriage will NOT be at the continent's first-ever Gay Games.

HERO The Stonewall Inn whose co-owners Stacy Lentz and Kurt Kelly did not serve Anheuser-Busch beers at their iconic bar during Pride weekend to protest the brewery's contributions to politicians who have supported anti-LGBTQ legislation. An Anheuser-Busch spokesperson disingenuously told Reuters, "We are proud to have received a perfect 100% score from the Human Rights Campaign's Corporate Equality Index for LGBTQ Equality."

ZERO American LGBTQ lobby group Human Rights Campaign whose 2021 Human Rights Campaign Foundation's Corporate Equality Index — a benchmarking tool on corporate policies, practices and benefits pertinent to LGBTQ employees — does not penalize companies for donating to anti-equality politicians. During June 2021 Pride month, some companies used the CEI to publicly defend their donations to anti-LGBTQ politicians..

HEROES For coming out in 2021: 9-1-1: Lone Star actor Ronen Rubinstein as bisexual, Harold and Kumaractor Kal Penn as gay, Demi Lovato as non-binary and Billy Porter as HIV-positive; Tommy Dorfman came out as a trans woman; Brazilian governor of the southern state of Rio Grande do Sul and potential major party presidential candidate Eduardo Leite came out as gay; Australian A-League footballer Josh Cavallo of Adelaide United and NFL Las Vegas Raiders defensive lineman Carl Nassib both came out as gay, US elite runner Nikki Hiltz as trans and non-binary; Chinese volleyball player Sun Wenjing came out as lesbian, becoming one of the few out athletes in the nation; and Cassandra Peterson — a.k.a. Elvira, Mistress of the Dark — came out as lesbian in her new memoir Yours Cruelly, Elvira.

HERO Playwright Michel Marc Bouchard who on November 10 received the Prix Athanase-David, the prestigious literary prize awarded annually by the Quebec government to a writer for their remarkable contributions to Quebec literature.

HEROES PPS Danse founder, artistic director and choreographer Pierre-Paul Savoie, CBC Radio One business reporter and NLGJA Montreal chapter co-founder David Blair, celebrity journalist Michel Girouard and Quebec showbiz legend Michel Louvain, all passed away in 2021. RIP.

HEROES Las Vegas icon Siegfried Fischbacher of Siegfried & Roy, pioneering AIDS researcher and doctor Joseph Sonnabend, Grammy-nominated Scottish pop producer and trans icon Sophie, fashion designer Alber Elbaz, American pop singer Ari Gold, and San Francisco writer Simon Sheppard; 38-year-old American opera singer Antoine Hodge, Larry McMurtry (who with Diana Ossana won an Oscar for Best Adapted Screenplay for Brokeback Mountain), Toronto drag icon Michelle Ross, French 1970s bisexual disco star Patrick Juvet; bisexual Bay City Rollers lead singer Les McKeown of the Rollers' "classic five" lineup, LGBTQ icon Olympia Dukakis of Tales of the City fame, and Kay Lahusen, the first out gay photojournalist and life partner of fellow activist Barbara Gittings; comedian Rusty Warren, known as "the mother of the sexual revolution" and gay circuit party impresario Jeffrey Sanker; Madeline Davis, first openly gay woman to speak to a major party's national convention, asking Democrats at the 1972 Democratic National Convention to include an anti-discrimination plank in their platform; queer activist, philanthropist and confidante of Coretta Scott King, Winston Johnson; Spartacus: Blood and Sand star Francis Mossman; James Hormel, America's first openly LGBTQ U.S. ambassador; gospel singer, minister and queer rights advocate Carl Bean, whose 1975 disco hit "I Was Born This Way" inspired Lady Gaga's "Born This Way"; Chris Jones, sexually-fluid brother and right-hand-man of famed singer-model-actress Grace Jones; pioneering gay porn film director Wakefield Poole, and Old Yeller and Swiss Family Robinson Disney star Tommy Kirk, all passed away in 2021. RIP.